Hello Everyone,
Another wonderful week has been and gone and the rest of the month continues to look exciting.
Private Functions
Not only do we do weddings here, but we hire out the venue for private events. These include Birthdays, charity events, baby showers & clubs & society gatherings,
to name but a few.
On Tuesday we had around 70 people from the MS Society here enjoying a delicious 4 course meal. So many commented how lovely the food was and how much they enjoyed their evening.
Thursday was an Afternoon Tea with the fabulous Fanny Galore.
Our Afternoon Teas include, scones with jam and cream, a selection of sandwiches and a delicious choice of desserts with unlimited tea or coffee. You can even upgrade and have a glass of prosecco each.
The restaurant was full of people laughing we even had Ms Galore herself outside on the Heath doing cartwheels.

This weekend Pam & Stuart celebrated with a joint 60th birthday do. The venue was full of their family & friends from all over the country and abroad.
The evening began with canapes on arrival and welcome drinks of Pimms, Prosecco, Bucks Fizz & a Hunters Meet Fruit Punch (non-alcoholic). Once most of their guests had arrived, we served a beautifully displayed hot & cold buffet. Following this, they had a dessert buffet with an array of desserts including Chocolate Fudge Cake, Strawberry Pavlova's, Homemade Banoffee Cheesecake & Homemade Coffee & Walnut Cake.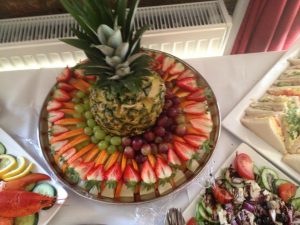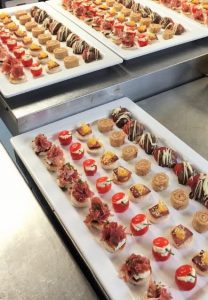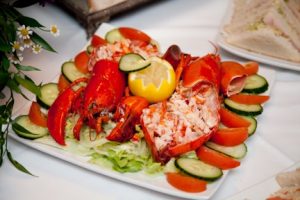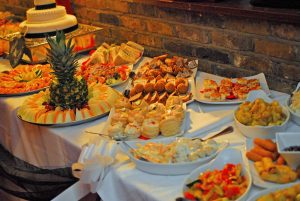 Later on, in the evening Pam & Stuart cut their birthday cake, made by the very talented 'elisabethjanecakes' (instagram), to everyone singing them Happy Birthday. This then led into a DJ playing music from all eras that kept them dancing all night long.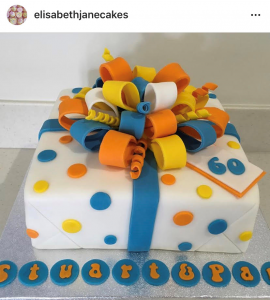 We saw everyone again the next morning for a full English breakfast and Stuart, Pam & all their guests said they had a wonderful evening. Once again HAPPY BIRTHDAY Pam & Stuart from all the Hunters Team.
This week we are even having a private BBQ for a school. We have previously done BBQ's for 1st Birthday's as well, perfect for this time of year and a great way to get lots of people together.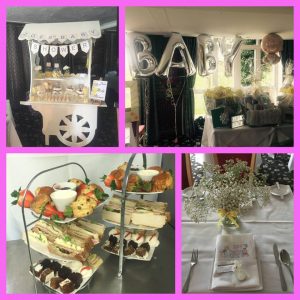 Midweek Events
As you know we also do many other events. This Wednesday 17th July we have Becs returning for a Psychic evening. It truly is a lovely evening including a 2-course meal with the option for a dessert after, followed by Becs passing on messages from loved ones. We still have a couple of spaces left so please call 01279 730 549 to book.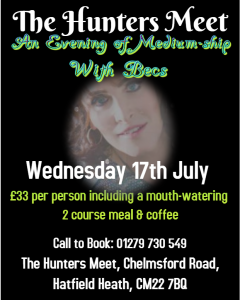 We have a delightful Afternoon Cabaret on Thursday 25th July 12 – 4pm with the very talented Debbie singing for you. This includes a delicious 2 course meal to enjoy while you listen.
Every Wednesday 6:30-9pm, through summer we have an all you can eat BBQ for just
£12 & half price for kids under 12.
This includes salads, garlic bread & picky bits such as mozzarella sticks, jalapeño poppers, wedges, onion rings and chicken. Then on the grill you can expect the likes of burgers, sausages, pork & sometime even halloumi. DELICIOUS.
Weekend Events
Every Friday & Saturday, providing there is no wedding or private function, we have fantastic entertainment evenings. These involve a scrumptious 4 course meal and all your entertainment included. The entertainment varies all the time and we have loved having you all be involved giving us your ideas.
These include tribute acts such as Tina Turner, Tom Jones, Abba, Adele & George Michael. We also have comedians, close up table magic & our drag queen Fanny Galore. All of these are alongside fantastic, live all era bands such as Cliché, Sonics & Baby Go Boom.

July is so busy already, but we still have a few last-minute spaces left for
Saturday 27th July. A gorgeous 4-course meal, fantastic Live music with Cliche & close up table magic with the talented Paul Clancey.
Call me on 01279 730 549, say you read my blog & I will give you and your guests a discounted rate of £25 per person
Every Sunday we do delicious 4 course lunches. If you don't fancy 4 courses you can pick and choose which courses you prefer. Perfect for a family day out.
However, on Sunday 28th we will be doing an all you can eat BBQ between 12 & 3pm. This will include everything you normally get with the Wednesday BBQ's. What a perfect way to enjoy the day with friends and family and not worry about the washing up after 😊
All our events are sure to give you and your guests an exceptional experience every time. We aim to do all we can to help so you can be a guest at your own event & enjoy the experience. From set up to clean up, our Hunters Team has you covered and will give your day the upmost devotion to make sure it goes smoothly.
To book any of our events or inquire about a private function please call 01279 730 549 and we will be happy to help.
Hope you all have a wonderful week.
Until next Monday, Speak soon
Sapphire
xxx