Hello Everyone,
I hope you are all having a wonderful Bank Holiday weekend and the weather holds up for one more day, unlike yesterdays wedding.
There was no 'drought' in our minds that the weather would be perfect for our Bride & Groom. No sign on the weather forecast at all for rain, but alas just before our beautiful Bride was ready to walk down the aisle the heavens opened.
But they did not let it 'rain on their parade', and with a mad dash from Brendan & the team, parasols & umbrellas were rounded up to cover all the guests. Everyone stayed in good spirits & were still able to cherish the magical day and as Hunters luck would have it, the rain did ease off during the ceremony. Some might say 'rain is just confetti from the sky'.
The whole team here would like to once again congratulate our weekend Bride & Groom's, Karley & Danny and Emma & Trevor. It was a pleasure to have you here and we wish you all the happiness in the world.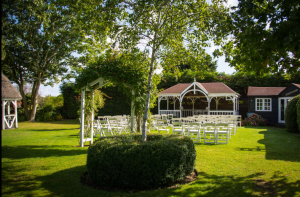 Bank Holidays are a lovely way for families to enjoy time away together but admittedly for us it does get quiet but as of next week our summer events are heating up.
We have a great offer to ease you into June. Saturday 1st June is sure to be a lovely evening for all with Live Music from the fabulous Sonics and you and your guests will be mesmerised with close-up table magic. So, give me a call on 01279 730 549 to hear our special offer.
On Friday we had guest appearances from George Michael & Adele (Tributes) who sang us through the evening with their chart-topping classics. It was a fantastic night, and everyone was dancing and singing along with them. We are pleased to say that we have re booked them so keep posted for dates.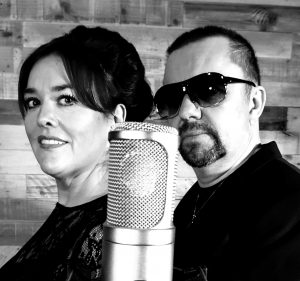 Royal Ascot Ladies Day
'And their off'
Ladies & Gentlemen, we are still taking bookings for this 'mane' event.
Thursday 20th June from 12:30
You will be greeted with Pimm's, Prosecco, Non-Alcoholic Fruit Punch & Canapes.
Enjoy a day of placing fun bets on incredible live and recorded races, traditional afternoon tea & plenty of prizes up for grabs including 'Best Dressed'.
It's an afternoon not to be missed, a fully loaded day that I'm sure you will all be 'biting at the bit' to book your tickets.
So, quit 'foaling' around and call us today for more information on 01279730549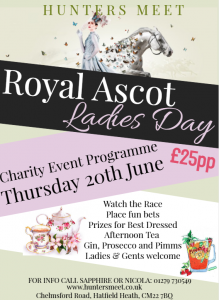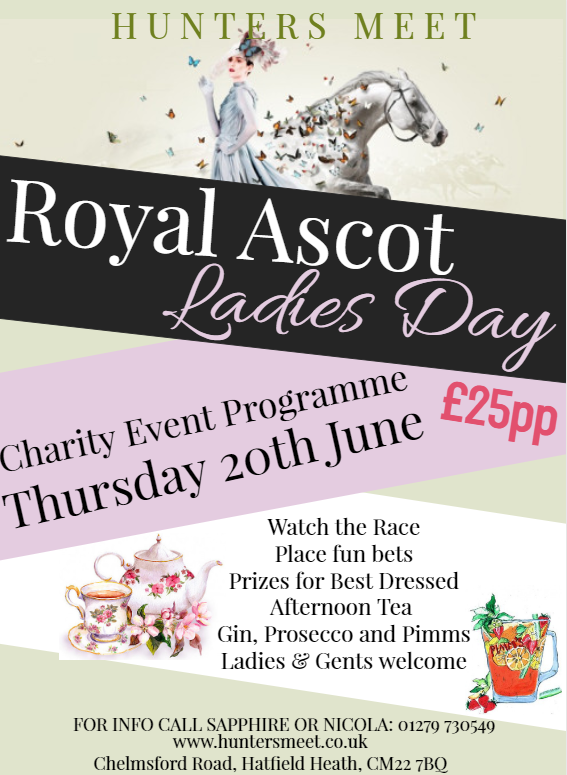 Our Staff
Today I get to talk about myself, which I'm sure you can appreciate is a little embarrassing 😊
Last weekend I was not at work but way up north in the Yorkshire Dales. My cousins & I took on the challenge of climbing the summit of Pen-y-ghent (694m; 2,227 ft), Whernside (736 m; 2415 ft) and Ingleborough (723m; 2,372ft) an overall distance of 26 miles, in less than 12 hours.
I knew this would not be an easy challenge, but I underestimated just how hard it would be. However, with the constant support from my amazing family, the 5 of us completed this challenge. One finishing in 11hrs 40 and the rest of us finishing 12hrs 2 mins which I am over the moon about.
We done this challenge in aid of Cancer Research UK who have had a massive impact for my family, changing my dads prognosis around for the better. There is still a long way to go for him but the new trial drug they have him on is working!!! We have raised and amazing £1372.50 so far.
We couldn't be happier.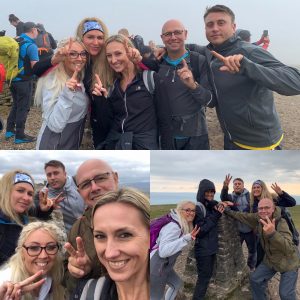 I do hope you all have a wonderful week and do keep posted for all our latest events & offers.
Speak Soon
Sapphire
xxx