Hello Everyone,
So, it snowed!! Do we think that's it or are we due more? It was pretty to watch though.
Hope you have all have a lovely week so far.
PROJECTS
Brendan, as always, has been busy with a couple of new projects.
The first one was our lovely trees at the front of venue. We call them the Harry Potter trees.
He and our local friend and neighbour John were out in the wind & rain cutting back the trees and decorating them with lovely flowerpots.

I think they look great and bring so much more colour during these winter months.
The other is just brilliant!
We have a horse box!
Now, I'm sure your imaginations are running wild.
Why on earth would we need a horse box? Well I shall tell you.
We (I say we), Brendan and a handy team of clever individuals are converting the horse box into…… AN OUTDOOR BAR!
They are completely renovating it to become a fully functional bar which we will be able to use all year, outdoors. Festivals, BBQ's, Weddings or just because we can. We hope EVERYONE will get joy out of it.

It might not look like much Right now but this will be INCREDIBLE!
I will keep you posted with its progress.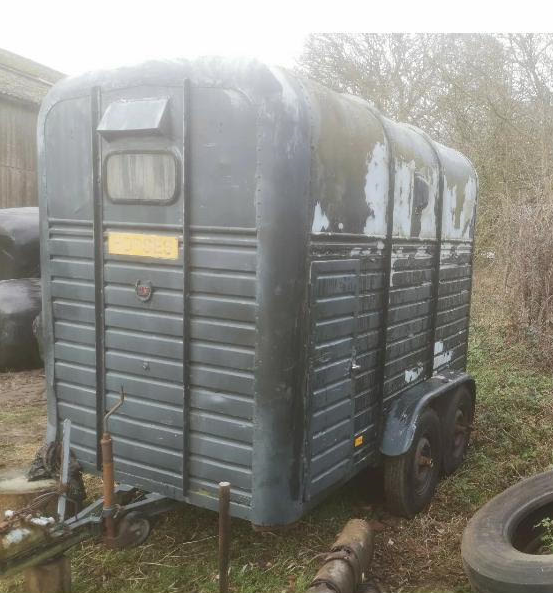 THE WEEKEND
This weekend was brilliant and both Friday and Saturday could not have been more different and yet the atmosphere on both nights was electric.
We really do try and cater for all and this weekend
was a perfect example of that.
On Friday we had an awesome Garage Night with DJ NUGZ and you could not see the chairs in the restaurant through the crowd that were up on the dance floor all night long. It was just incredible.
Saturday was Live Music with close table Magic.
We had a Hen Party, 50th birthday, a lovely family, couples…
A whole variety of groups and it was just lovely.
They all enjoyed their meals whilst be wowed in between course by the amazing Paul Clancey doing his close-up table magic then danced the night away with Cliche.
Roger who has been an integral part of Cliches performances at the Hunters Meet played for the last time with the band on Saturday.

I just wanted to say from all of us at the Hunters
'THANK YOU ROGER, WE WILL MISS YOU!'
UPCOMING EVENTS

I am SO excited for our upcoming events, especially our TRIBUTE nights.

Tickets are going fast so I encourage you all to gather your partners, friends and family and book your table.

Here is what we have coming up.
MADONNA VS KYLIE – FRIDAY 13TH MARCH

Live music with songs tribute to the Queens of Pop, KYLIE & MADONNA with party music to keep you dancing right through to midnight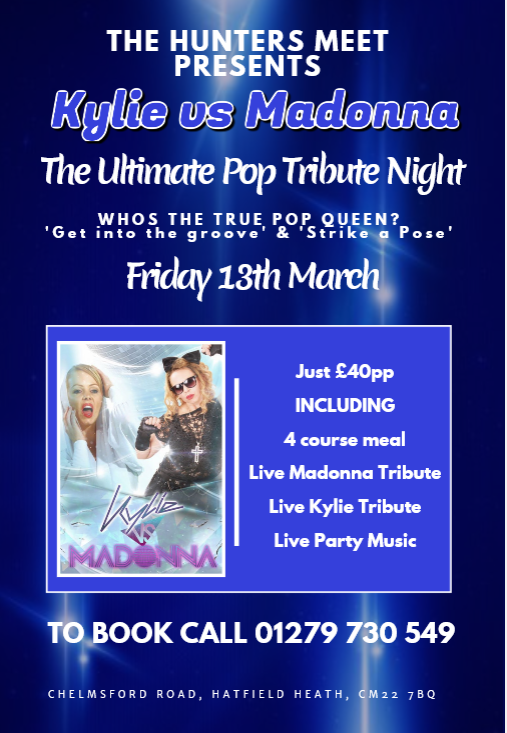 ROBBIE WILLIAMS – FRIDAY 3RD APRIL

I know ladies, I can't contain myself either.
Our Robbie Tribute is just amazing and one I think EVERYONE should come and enjoy.

It will be like having the man himself in the room with you.

Perfect night for ALL.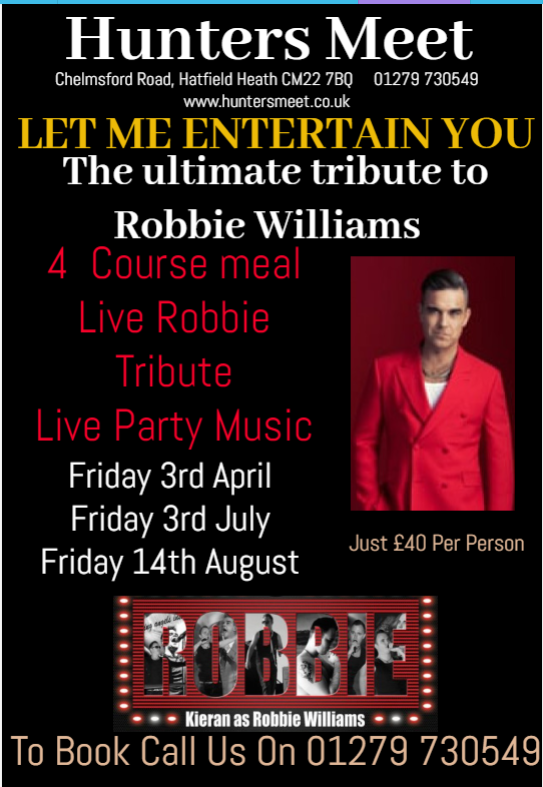 CHER – FRIDAY 10TH APRIL

We have got and INCREDIBLE Tribute singing all your favourite songs from the amazing CHER.
Enjoy this and all era party music all night long.
To Book any of these events please call 01279 730 549
We have got an exciting AND VERY DIFFERENT night coming up in April.
HUNTERS MEET PRESENTS FIRST DATES.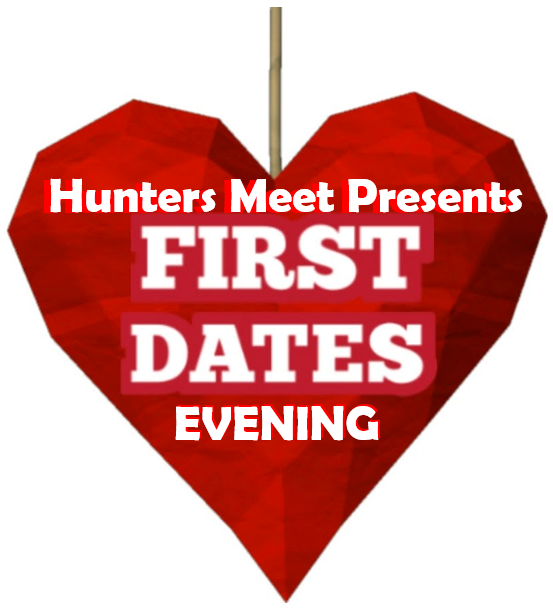 The idea is if you have any friends or family you think will suit someone else, you can set them up on a romantic evening at the Hunters Meet.
They will chat to our Bar Manager whilst enjoying some dutch courage as they wait for their date.
Once their date arrives we will show them to their table where they will enjoy a delicious meal and hopefully sparks will start.
Once they have gone through you will be able to sit in the bar area and wait for them to come out where you can interview them and find out all the juicy details and hopefully they will find LOVE.
If you know 2 people you think are perfect for each other OR EVEN you want your friends to set you up with someone call 01279 730 549 for more information or to book.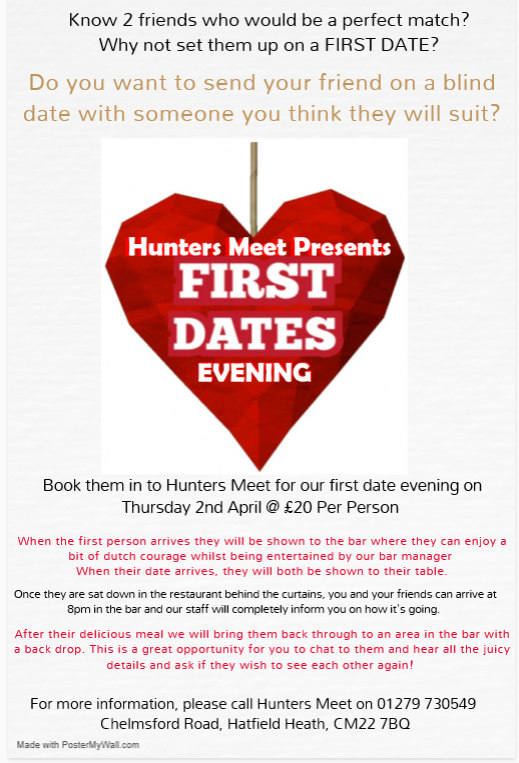 I think it will be a brilliant evening full of fun and stories to tell the kids 😊
STAFF
So, it's a very special ladies' birthday this month.
Our General Manager Nicola.
I'd firstly like to say on behalf of all your Hunters Family
HAPPY BIRTHDAY.

Some of us are off this weekend to celebrate with her in style. Don't worry I'll share the pictures when we are back 😊
I hope you all have a wonderful week and I hope to hear from you all soon.
Speak Soon
Sapphire
xxx