Hello Everyone,
Amidst all the chaos, doom and gloom I thought I would write a little blog to try and cheer you and give you something to read.
Open as Usual
Until we are told otherwise, we are going to stay open as normal, providing you with all our usual services Restaurant, Hotel & Spa.
THIS WEEKEND
This Weekend we are opening with some little added extras for all those that just want to get away from the chaos for one night.
On Friday You will be able to enjoy amazing live music from Louise with bar snacks and a great happy hour with cocktail wine and beer deals. You could sit back and relax with a delicious main meal or full 4 course. This will not be our usual ticketed night, just pop on down for a great night out.
Either way it's an escape from reality for a night.
Community
I have been overwhelmed with humankind in these last 2 weeks.
Yes, we have those silly people who have made it difficult for us to shop reasonably but overall, it has bought back a lot of faith in the human race.
The kindness, generosity, thoughtfulness has been outstanding. We are living in a perfect storm and still most people are being completely selfless. It is so refreshing, and I just want to thank everyone for that. Keep going.
Hunters Eats
I, Nicola (general manager) and chefs Sian & Willis discussed what we could to help the community.
Now we know a lot of people will be needing to self-isolate or not want to come out, so we have come with a delivery/collection service for the Hatfield Heath area.
Hunters Eats is in operation as of TODAY.
Although a limited menu for obvious reason it's a delicious one all the same with great deals.
Just call us on 01279 730 549 to order!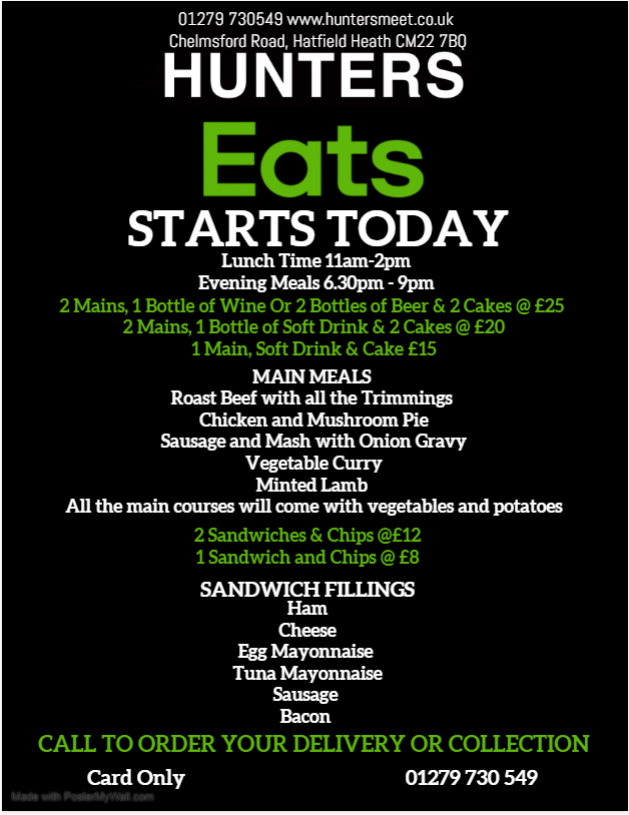 Staff
With everything going on I haven't been able to update you on our staff trip to BUTLINS!
It was one of the best girls' weekends away I have ever been on. We had so much fun, dressing up, playing silly games and of course the odd drink or two all the while dancing away to classic 80's music all weekend.
I've chosen some photos that we feel are acceptable to share 😊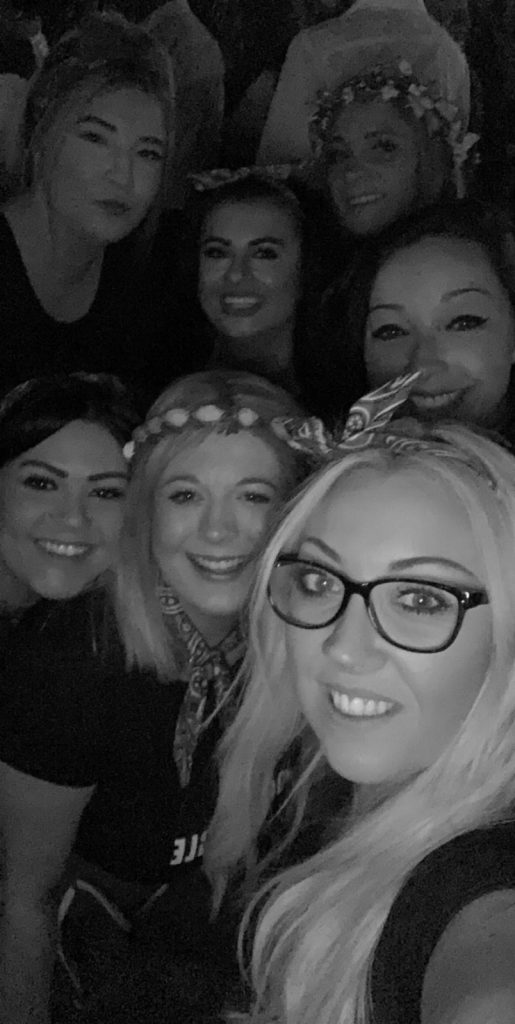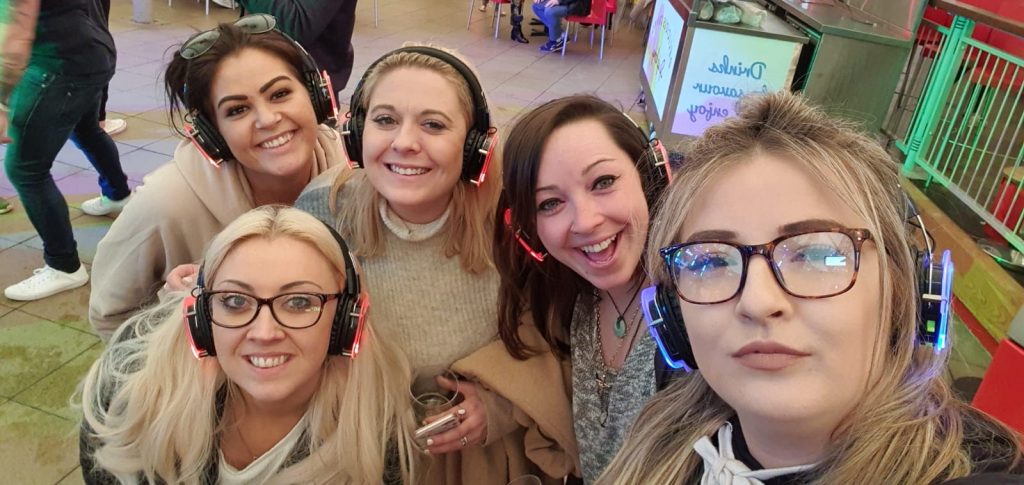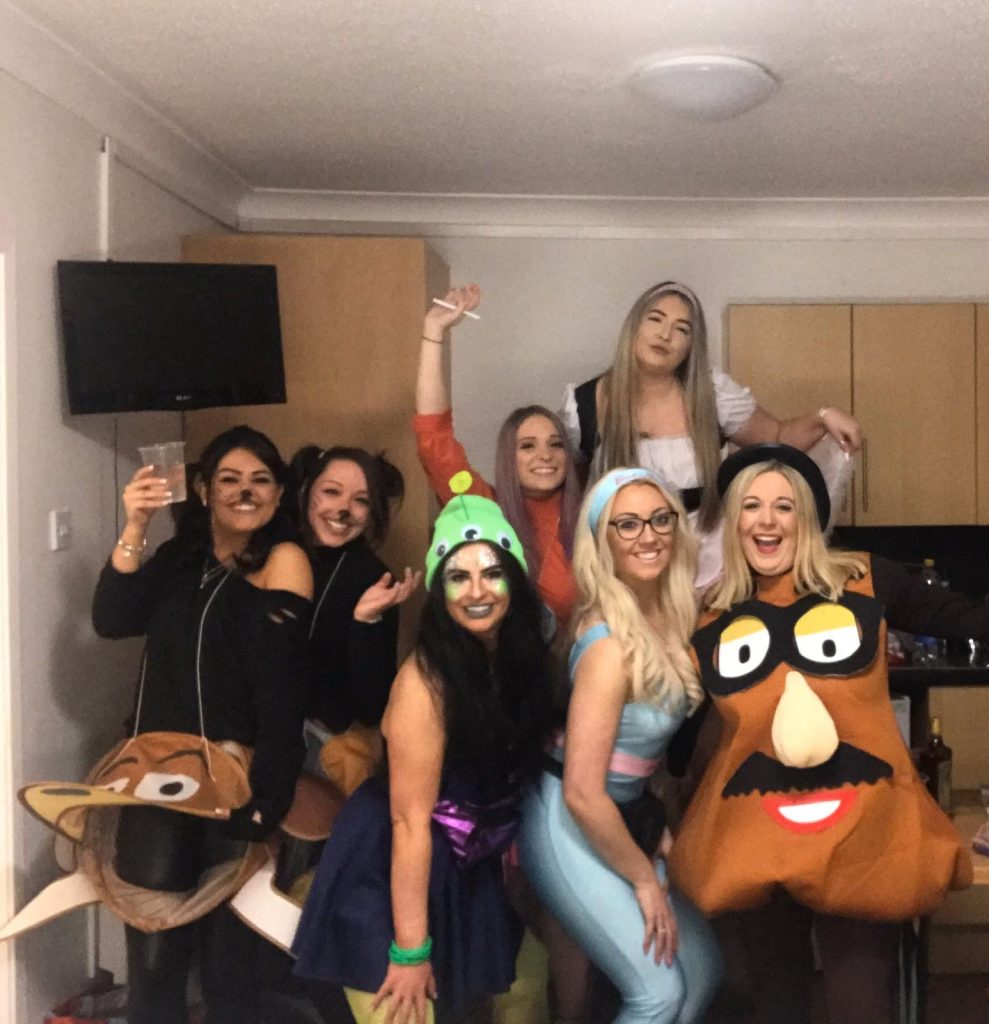 A message to our Customers
These are peculiar and difficult times but on behalf of all at Hunters Meet I want to thank everyone for their custom and continued support. We are going to keep running as normal until told otherwise to help everyone through the storm.
'Be strong because things will get better. It may be stormy now, but it never rains forever.'
Please take care, be kind and continue to support each other.
Speak Soon
Sapphire
xxx