Hello Everyone,
I hope you have all had a lovely couple of weeks. As you know I was away last week so let me try and update you with what we had going on here and what we have coming up.
Wednesday lunch time we had a full restaurant with the lovely Federation of Essex WI. They all had a delicious 3 course meal and enjoyed a talk & demonstration from an artist.
The weekend was brilliant, Friday night we had the fabulous Fanny Galore & live band Baby Go Boom and I've been told the atmosphere was electric.
During the day on Saturday we had a big Afternoon Tea & they were just absolutely lovely people and we hope they all had the best time.
Our entertainment evening was busy on Saturday with guests enjoying close-up magic & live music from The Sonics. We had parties celebrating 0's birthdays and Saturday nights are perfect for these celebrations. Happy Birthday again to Glenys 80 & Denise 70, we hope you had a lovely evening.
Sunday was unexpected, we already had a busy restaurant for Sunday Lunch & were then thrilled by the amount of walk ins we had. It was wonderful, and the atmosphere was outstanding. We are always happy to welcome walk ins who can enjoy a delicious 4 course meal or tailor to the courses you would like.
COMING UP
We have been running a competition for our comedy night on Saturday 24th August. On Facebook we have had people telling us their best jokes for the opportunity to win 2 FREE TICKETS for the evening. We will be announcing the winner tomorrow. Even if you have not entered do feel free to come. We have our last few spaces left, call 01279 730 549 and say you read the blog and we can give you a discount of just £29 per person.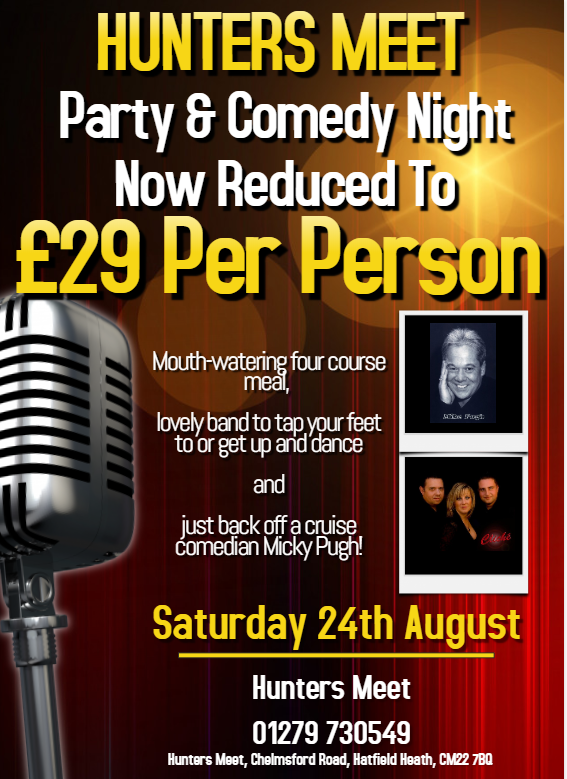 Saturday 17th August join us for a delicious 4 course meal, close-up magician & live music from the brilliant SONICS who will have you dancing and singing along all night.
CHRISTMAS
Yes, I've said the dreaded C word. But we are here to make it as easy as possible for you. Our Christmas Programme and Menu are ready to go. Why not join us to celebrate the BIG C with friends and family. Most Monday's & Tuesday's have no entertainment so you can just relax with great company and some background music. The rest of the weekdays will have some form of cabaret & live music. If you would like to book your Christmas party, please call 01279 730549.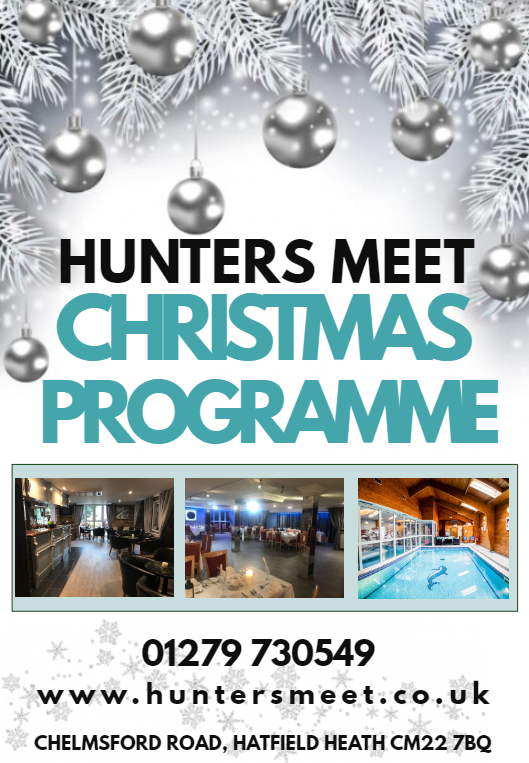 STAFF
As I've said, last week myself and a couple of the girls from work travelled down to Cornwall to enjoy the Boardmasters Festival. Unfortunately, due to extremely strong winds and the festival being held on a cliff, this was cancelled. But we were still there with our tents so decided to make the most of it. We pitched up and enjoyed a lovely few says there. We went in the sea, walked along the sea fronts, visited Newquay and travelled all around the coast eating the best Cornish pasties and ice cream. It was still a lovely weekend with great company and we will try again next year to see the festival.
Speak Soon
Sapphire
xxx