Hello Everyone,
Goodbye September, hello October. Can you believe we are pretty much 2 months away from December already?

We have been having so much fun here at the Hunters this year. We have had the pleasure of sharing in so many special occasions such as weddings, anniversaries, birthdays & even baby showers.
We've held several Probus club lunches, afternoon cabarets, BBQ's and of course all our amazing party nights. We have been wowed by magicians, laughed with our comedians, danced with live bands, sang along with our tribute acts and got up to all sorts with Miss Fanny Galore.
They say time flies when you're having fun and although the year is nearly finished the fun does not!
We have plenty for your diaries and I don't want to bombard with dates, although it does get very tempting. I have been known to do it, but I just don't want you to miss out on any of the fun. However, for this blog today I will reign it in and have decided to share my top 2 favourite events coming up each month until January. Here goes.
OCTOBER
Friday 11th October, our amazing George Michael & Adele tributes will be here, and they really are brilliant. I would not want you miss this date so please book your space to avoid disappointment. Enjoy your delicious 4 course meal and sing along and dance all night. Who doesn't love a good sing along and dance? I do 😊
On Friday 25th October (and I'm only a little excited for this. Okay, I'll admit, a lot excited) we have a Grease vs Dirty Dancing party night!!! A cracking night with all era live band Sonics dedicating songs to some of our favourite musicals EVER and Miss Fanny Galore will be the house to welcome you in and dance and sing with you all night long. All this and a mouth-watering 4 course meal, you can't go wrong! Book Now, 01279 730 549
NOVEMBER
November is by far the best month and I only say this because it's my birthday month 😊 However, we do have some great nights lined up.
The two nights I have chosen, take you from the start of the months to the end!
Friday 1st of November is our very spooky Halloween themed party night with Fanny Galore & brilliant all era live band Cliché! Now I'm not saying dressing up is compulsory, because it's not, but how much fun would it be HAHA! My family & I will be attending this evening and I will be dressing up. So, to see what I'll be wearing and enjoy great food, entertainment and a few scares book you space!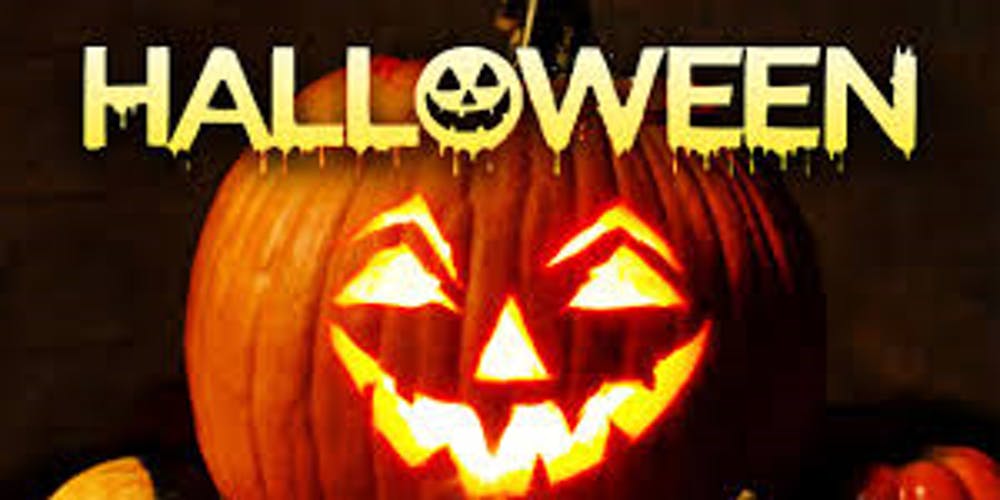 Nearing the end of the month on Friday 22nd November we have an amazing tribute night with live all era singers dedicating songs to Miss Kylie Minogue.
But here's a little secret from me to you, and I can't say who just yet, but we could, possibly, maybe be having another special guest. So, keep your eyes peeled for who it might be.
Either way it really is a fantastic night and all the tributes have great fun with you all and encourage plenty of sing and dancing.
DECEMBER
Now this is a busy month leading up to Christmas and although out Fridays and Saturdays have all gone, we have fun day and night through the whole month.
It's quite hard to select just 2 favourite dates so I'm changing it up for this month. Instead I will let you know that we have 2 options in December this year. Entertainment or NO entertainment all with a delicious 4 course meal.
Our no entertainment nights are for those who just want to come and enjoy delicious food, listen to relaxing background music and appreciate the company of friends and family.
Then we have our entertainment dates which range from afternoon cabarets to Party nights with an array of entertainment.
Available non entertainment dates
Monday 2nd – Evening
Tuesday 3rd – Evening
Monday 9th – Evening
Tuesday 10th – Lunch
Monday 16th – Evening
Available Entertainment dates
Wednesday 4th – Live music with Douglas and party with Fanny Galore
Tuesday 10th – Party the night away with soul & all era singer Douglas
Tuesday 17th – Live music with Douglas and party with Fanny Galore
Wednesday 18th – Live music with Douglas and party with Fanny Galore
Sunday 22nd – Live music party night & ABBA Tribute.
As you can see December books up quickly and although these dates are available now, they can go fast, so don't hesitate. Call a book your space 01279 730 549.
JANUARY
Now in January we do still take Christmas bookings so if you can't find a date in December that suits you, keep the cheer going into the new year and join us for you Christmas celebrations.
I would also like to share with you that for the first time EVER we will be hosting a garage & 90's weekend. This is right up my street and a lot of the staff are also very excited for this weekend. It will be held on the 31st January with garage & 90's music hosted by the lovely Fanny Galore & 1st February we will have DJ EDGE in the house bringing you all you favourite old skool classics. EXCITING.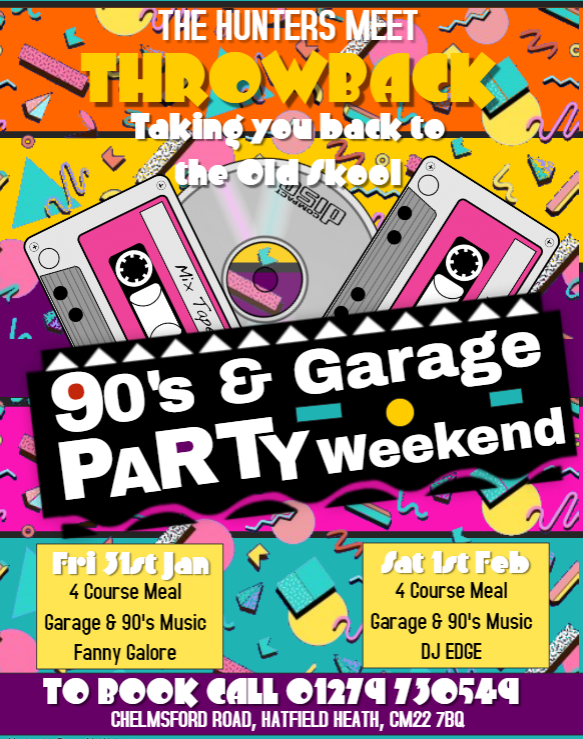 So, as you can see the fun does not end but time and availability go quickly. So, pull out them diaries, gather up all your friends and family and book you space!!
I can't wait to see you all.
Speak Soon.
Sapphire
xxx