Hello Everyone,
Easter is nearly here, and I know it won't be the Easter you planned, I was meant to be in Disney with my family. But I hope you will be able to make the most of your day anyway and hopefully the weather will continue to be glorious.
We are in our third week now and continue to remain as positive as we can and a lot of that is thanks to our loyal customers, new and old. I hope we have been able to bring you a little joy through this blog and being able to provide you all with Hunters Eats.
Hunters Eats
We have been very humbled by the response we have had from Hunters Eats. Four of us had this little idea to help the community in a way we knew how. We never thought it would go as well as it has, and we are so happy you are enjoying the food and service and are glad we can help.
We have families that are buying meals for other relatives who can't get out, people who have just moved to Hatfield Heath (Welcome) & families with younger children. We have had a whole array of people using the service and we are so grateful.
We will be open Easter Sunday 12-3pm for deliveries and takeaways so do call to order 01279 730 549. We will however be closed on Bank Holiday Monday 13th.
I have also added our specials for next week for you to have a look at 🙂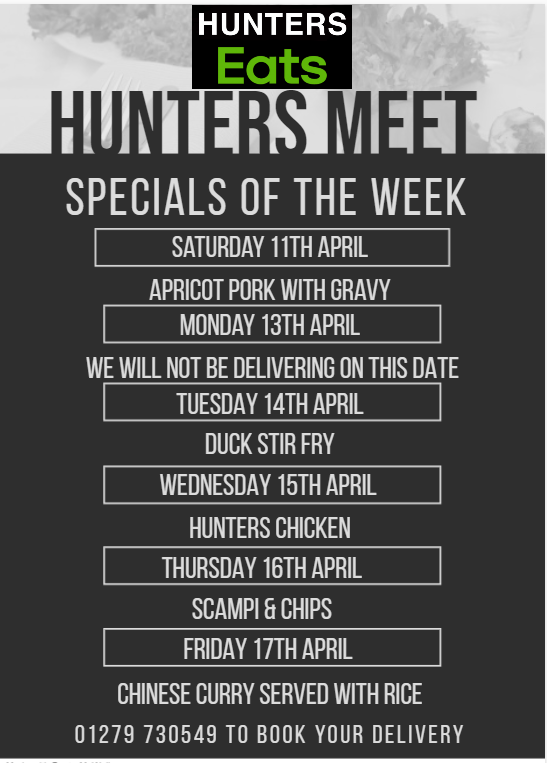 Projects
As you know we have had a few projects underway. We have had all the materials for a quite a while but have decided this would be the best opportunity to put them into action. The weather is now on our side so we can get outside to this. The last couple of months haven't given us much opportunity.
The decking has now finished being extended. Brendan has jet washed all of it and put a varnish over the top and it has made such a difference. The decking is now finished, and I am so excited to finally be able to show you the finished product.
Here is the before and after photos for you.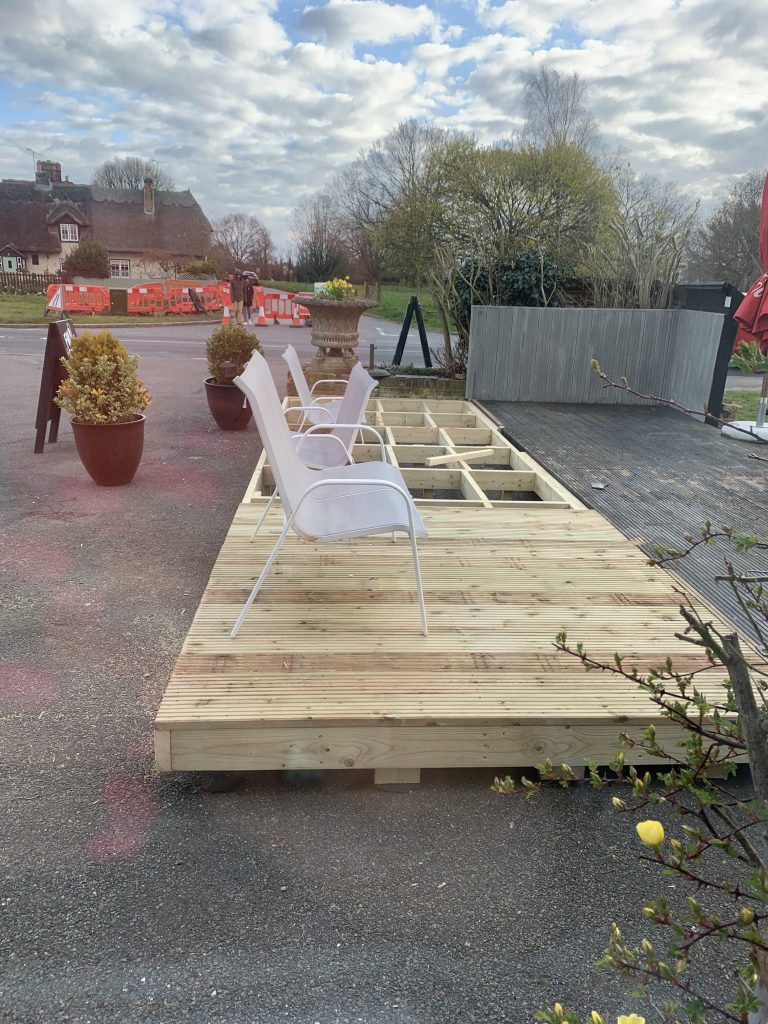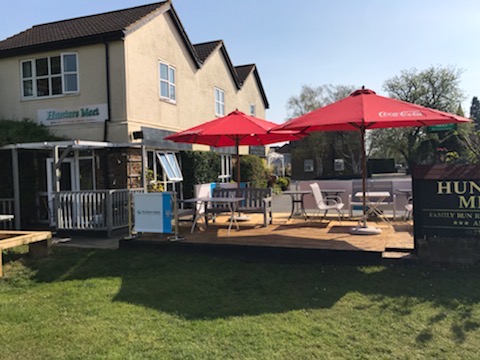 Our other project has been a lovely bubbly bar horse box.
Lesley & Sian have sanded it all down given it a 1st coat and have now started adding some colour to it. We can not wait to get this running for everyone, we have a big plan for when we open again
Welcome Back Party
I'm sure we are not alone when I say we can not WAIT to re-open and we are planning a big welcome back party. The decking is ready, the lovely bubbly bar will be ready, and we are going to bring in one of THE best live Irish bands around. Whether you like Irish music or not, you will just love the energy and fun these guys bring to the party.
Staff
Believe or not all the staff are really missing being at work. We have all felt quite nostalgic lately and have been reminiscing over stories from the last 30 years.
I will never forget when we used to have the dessert trolley that we used to bring around the restaurant to each table. It was FOREVER falling over, and desserts would fly everywhere but as soon as the last dessert went out the staff would run to the kitchen to get what was left.
Lorna remembered one from an Afternoon Cabaret. A poor lady was feeling particularly unwell but while she was being sick, she handed over Brenden her teeth to hold!
We had one evening where a member of staff had come in to eat with her boyfriend. She was under the impression her boyfriend was going to propose. So, Brendan asked the DJ to congratulate them both on their engagement. Turns out they did not get engaged. AWKWARD!
There are so many, and I'll share some more with you next time.
Quote of the Day
'Be gracious, be encouraging, be kind, but most of all be thankful'
Too often we get caught up in our day to day lives and forget how to just sit back and be grateful for what we already have. I really think that this situation we are in has bought out the best in people. Kindness, generosity and community. I hope you are all embracing this time and are thankful because there are people not so fortunate right now and my heart goes out to all affected. For everyone else, stay home, stay safe, stay positive, stay thankful.
Speak Soon
Sapphire
xxx