Fantastic all era live band THE SONICS & Close up magic around the tables by MAGIC PAUL
Great night of entertainment to come and party with!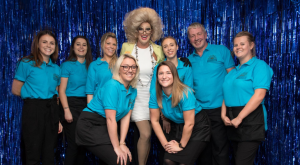 HUNTERS MEET GOES TO BENIDORM!
BE SERVED BY OUR SOLMA WAITRESSES. 
MOUTH-WATERING 4 COURSE MEAL
WITH FANNY GALORE YOUR HOST AS JOYCE TEMPLE SAVAGE
LIVE MUSIC FROM YOUR BENIDORM BAND CLICHE 
ITS GONNA BE A PARTY YOU WON'T WANNA MISSED.
COME DRESSED IN YOUR HOLIDAY CLOTHES OR AS SOMEONE FROM THE PROGRAM
COME AND PARTY BENIDORM STYLE